Quartz Countertops - Colors
Color is important when completing any kitchen remodel. It impacts the kitchen style and mirrors the tastes of the homeowner. Whether you choose light, bright, or dark hues the quartz countertops – colors can heighten any color palette or contribute to a fun contrast. The sky is the limit when it comes to quartz countertops color selection due to the various aspects of quartz countertops. These characteristics can allow you to incorporate any color imaginable in unique and surprising ways.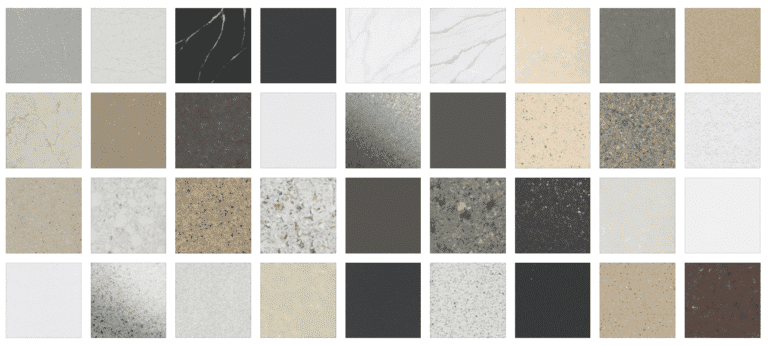 Quartz is a mineral naturally formed by Earth. The environment where the quartz forms often determines its shape, color, and beauty. It is common for quartz countertops to have veins, long streaking lines that run along with the quartz. Veining ranges in depth, color, and frequency. They play a huge part in how you would like color to be represented in your home. Some quartz countertops may have many veins, dark, light, or a combination. Others have very few veins making the true beauty of the quartz itself shine. Either way, veins add a touch of color and elegance to any renovation.
Flecks, the rock shaped dots within the quartz are another feature that influences the quartz countertops tone. For those who love options, flecks allow multiple colors to be represented in the quartz countertops. The flecks create a rare beautiful pattern in an artistic manner. They also add texture, depth, and sparkle to the countertops and remodeled space. View more ideas.
Quartz Countertops- Color may appear as one hue but, depending on the lighting, could reflect another. It is important to factor light when determining the color. After all, quartz is a crystal. When light enters a crystal, some light is absorbed and some are reflected. The reflection of light is what we perceive to be color. Lighting differs from home to home. Schedule a FREE consultation to understand your home's lighting and how it may impact your quartz countertops- colors.
Just as natural as quartz are chemicals. They both interact with one another during formation resulting in exciting colors. For example, traces of iron in quartz may give countertops a purple or burgundy hue. Bright earth tones like olive greens, bright oranges, or rusty red quartz countertops can be the eye-catching color you may want to integrate into your new remodel!
Stone Spirit is home to a showroom which displays hundreds of quart countertops- colors.
Plan your visit and know all your quartz countertops color options. The Stone Spirit team is also available to schedule your FREE consultation.