Granite Countertops in Orlando
The beauty of granite countertops is unmatched. There's something timeless & appealing about granite. High-quality kitchens look amazing with granite countertops & often become the room's focal point. Granite comes in 200 shades, so you can pick one that matches your cabinets, flooring, and walls.
Why Granite?
Natural Beauty
When it comes to designing a stylish and functional kitchen, there's no doubt that granite countertops are the way to go. With their natural beauty, durability, and timeless appeal, these luxurious surfaces can transform your space into a true showstopper. Whether you prefer sleek black or white granite with subtle veining or something more dramatic like blue pearl granite with bold flecks of color, there is a range of options to suit every taste and style preference.
Durability
Since granite is one of the toughest minerals on earth, it resists damage from heat and scratches while also being easy to clean. Granite countertops add an instant touch of luxury and elegance to any kitchen space while providing practicality that enhances daily living for years ahead. Update your home by adding the sophistication of genuine stones right within reach in the comfort of your own home.
Style and Elegance
Transform your kitchen into an exquisite place with granite countertops that speak of luxury and elegance. These natural stone countertops are popular among homeowners who want to add style and sophistication to their homes without sacrificing functionality. Granite is beautiful but also durable, heat-resistant, and easy-to-maintain material.
The unique patterns and colors in each granite slab make it possible for you to select the perfect one that complements your home's décor style, whether modern or traditional. Whether used as bathroom vanities or kitchen worktops, granite instantly transforms any room into a welcoming space that exudes warmth and sophistication. As you prepare meals or entertain guests on top of your exquisite granite countertops, enjoy every moment for years to come, knowing that its beauty will last forever.
Luxury
The kitchen is the heart of any home. It's where people gather, cook together, and share meals with family and friends. When it comes to designing a beautiful and functional kitchen, the countertops play a crucial role.
Granite countertops are an excellent choice for making their kitchen stand out. Whether you're remodeling your entire kitchen or just looking for a quick upgrade that will refresh its look instantly, choosing countertops is an investment that will pay off in spades.
Granite Instantly Upgrades Your Kitchen or Bathroom
Granite countertops are a game-changer when giving your kitchen an instant upgrade. The durability of granite makes it a smart investment, as these counters will hold up against wear and tear for years to come. Not only is the material tough, but its striking appearance can instantly transform plain kitchens into something stylish and sophisticated. With their unique patterns and colors, granite countertops offer endless design possibilities that complement nearly any style of cabinetry or decor theme.
Granite Adds Value to Your Home
Granite countertops add value to your home while creating an inviting space for cooking family meals or entertaining guests – they truly are a stunning centerpiece anyone would be proud to show off.
These beautiful natural stone surfaces instantly elevate the look and feel of any kitchen space with their timeless elegance and durability. With unique patterns and colors, granite adds character and personality to your home.
. Whether you prefer classic white or black granite or something more adventurous like exotic blues or greens, there's a perfect countertop option out there waiting to transform your kitchen into an updated oasis. Investing in granite countertops enhances your daily living experience and increases the value of your home should you ever decide to sell down the line. So take the leap and upgrade your kitchen with stunning granite countertops.
Granite That Sparkles With Style
These beautiful stone surfaces add a touch of luxury and sophistication. With unique patterns and speckled textures, granite countertops instantly elevate the look of your space, making it stand out from other countertop materials. Whether you prefer classic styles like black or white granite or bolder colors like red or blue pearl, there's something to suit every taste and design preference. 
Spruce Up Your Space With White Granite Countertops
White granite countertops add a luxurious look. They have become very popular among homeowners for its impeccable beauty. White countertops can instantly elevate the ambiance of any room they are installed in, giving it an airy feel.
Whether you're renovating your kitchen or bathroom, white granite countertops provide a modern aesthetic that will surely impress all visitors. 
White granite countertops are a simple yet elegant way to give your space an instant facelift. White granite is versatile and pairs perfectly with many design styles. Its neutral color scheme creates a clean canvas that allows you to explore different decorating possibilities without feeling overwhelmed or constrained by bold colors or patterns.
Maintenance of Granite
Granite is easy to maintain with simple cleaning routines. But keep in mind that granite needs to be sealed, as it is a porous material. Wipe out with soapy water. We recommend re-sealing Granite countertops once a year unless you use a stronger sealant that can last up to 3 years.
With proper care, it will remain pristine for years, making it an excellent investment for anyone who prioritizes quality craftsmanship and timeless aesthetics in their home renovation projects. Whether you're redoing your kitchen island or updating the bathroom vanity countertops, white granite should be on your list of materials, it brightens up any space and adds elegance wherever used.
With their durable and long-lasting nature, white granite countertops provide exceptional functionality and elevate the aesthetics of any room they are installed in.
Where to buy Granite?
At Stone Spirit, we offer various white granite countertops in different shades and patterns that cater to every taste preference. Our team works tirelessly to ensure that each countertop is seamlessly installed for maximum durability & longevity while providing precise measurements based on your needs.
Our competitive pricing makes it easier to spruce up your living spaces with high-quality countertops. Whether you want all-white or speckled varieties, Light or dark tones, our wide selection ensures something for everyone at Stone Spirit's showroom.
At Stone Spirit, we provide an extensive range of exclusive designs in different colors and textures suitable for any style or preference. Trust us when we say; our granite countertops will sparkle your kitchen with stone spirit.
What are the features & descriptions of granite countertops?
The choice of granite countertops is a personal decision based on taste, color scheme & style of life. However, it's essential to know the features of the material before making the final decision. Granite is a beautiful, luminous stone with a great variety of styles, colors, and designs.
Sometimes we have customers asking if granite countertop is natural. Yes, granite is 100% natural. But at the same time, there is granite that is already pre-sealed. We import it from quarries. Then it is cut into different slab sizes, polished, and delivered to the showroom. Granite slabs can have a very exotic look, reveal a personal statement, & change the look and atmosphere of kitchens and bathrooms.
Some stones are very rare and hard to find. These slabs will have a lot of veining, structure, color shades, and tints. Granite is also known as "fire rocks". It is formed by slowly cooling pockets of magma trapped beneath the earth's surface. Since the stone is so hard with so many colors, it makes a perfect choice for countertops.
Granite Pros
Very hard material
Extremely durable
Highly resistant to staining
Scratch and heat-resistant
Large selection of colors
Ideal for kitchen countertops
Porous, but can be sealed to prevent staining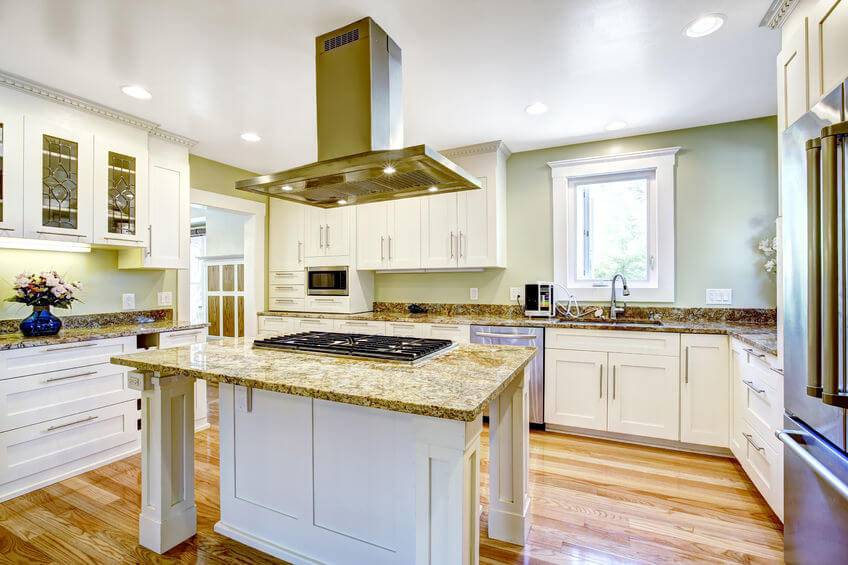 Granite countertops can be sealed for up to 1 year, and some companies can seal it for up to 3 years. Once granite countertops are sealed properly, no staining should occur. To maintain the luminosity of granite, clean it with a specifically designed cleaner for granite. For example, Stone Spirit has an excellent product that cleans and maintains the sealant and the granite's shine.
How do you choose granite countertops?
1. Quality 
Granite is a natural stone. It is 100% natural. Normally, slabs are not sealed, so make sure you seal your kitchen or bathroom countertop before using it. Some companies pre-seal their granite slabs. 
2. Colors
Granite offers a wide variety of colors. The more rare the color and tone, the more expensive those slabs will be. The most common shades are white, gray, brown, yellow, red, green, blue, black, pink, or purple. 
3. Patterns
Granite offers different patterns. Patterns range from simple geometric shapes to intricate designs. Our Orlando customers tend to prefer wavy patterns. 
4. Sizes
Granite is delivered in slabs. There are regular-size slabs and jumbo slabs. Jumbo slabs allow usage on large surfaces. It allows to have installation without or with fewer seals. For example, it is a great option for a large kitchen aisle.
5. Prices
Granite prices vary based on the type and level of the granite. Other features that influence the price are patterns, sizes, and how rare the color is. Prices with fabrication and installation start at around $45 per square foot for and go up to over $100 per square foot.
6. Edges
Many edges are available for granite countertops. But make sure to choose the right edge finish for your style. As some edges may not match certain styles.
Stone Spirit is one of the leading providers of granite countertops in Orland. Stone Spirit offers a wide variety of colors and options at the showroom. Our design specialists can help you choose the right material and color for your project!