It is quite well recognized that granite is a perfect countertop material because of its extraordinary durability, but let's not forget about its spectacular aesthetic appeal and versatile colors. Granite can offer a variety of looks and style when it comes to visual appearance. It can offer an elegant and luxurious look, or a casual and contemporary appearance, depending on the choice of color and finish. The appearance of granite countertops and its luster will never fade or dull over time.
Nowadays there is access to hundreds of quarries all over the world, so the possibilities of colors and styles are endless since each piece of granite is unique and different in color. So the options are endless.
Each piece is one of a kind. Colors vary from greens to blues, blacks, pinks, whites, yellows, burgundy and many more. Granite slabs also vary greatly in patterns, there are some that have very large, intricate designs and movements while there are others that are much more subtle. Some have more motion and wavy pattern in them and some have more speckles.
While choosing the right color of the countertop, it is important to take into consideration the rest of the colors in the room or cabinets and flooring.
It's always best to create some contrast between the patterns so that there is no blending and ability to underline or show other pieces.
Here are some most common colors:
White/Grey– White countertops usually would go with most colors, and these colors give a more modern look, of course, depending on the style of the rest of the kitchen, bathroom, or any other room. White also makes small rooms visually more spacious. But of course, if cabinets and flowing are also white, then it might be a better idea to contrast out; otherwise, everything will be blending in.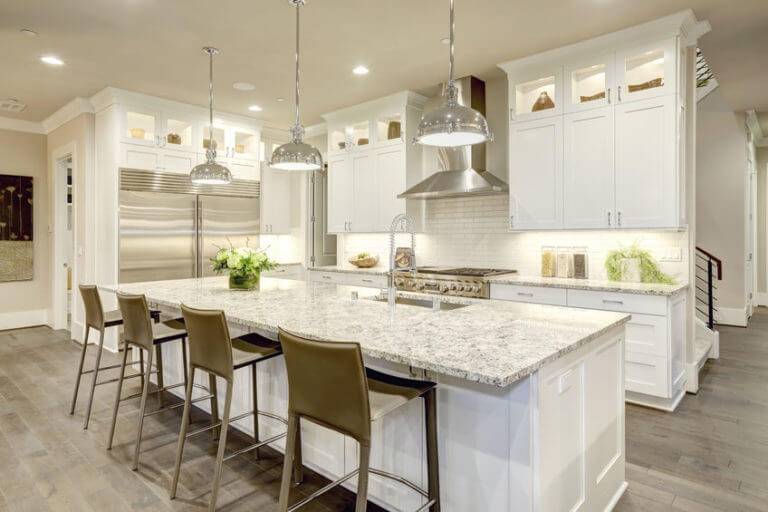 Taupe/Brown /Beige – These are neutral tones and will easily compliment other colors in the kitchen or bathroom. These tones provide a more traditional look and easy to work with. They seem to provide a warm and comfortable look and seem to be quite popular.
Red/Yellow / Gold– Yellow and Gold countertops have the ability to brighten up any room. These tones tend to give a warm appearance. Red tones add spice to the style.
Black– Black provides an extremely modern and sleek look. Black granite can be either black with almost no speckles, or with some pink or green tint to it, but at the same time, it can be with very interesting patterns inside the piece adding more colors and style.
Blue / Green– Blue and Green tones tend to be very vibrant.  Greens and striking blues can add a rare and exotic appearance to any room.