In recent years, a sudden rise has been observed in the popularity of quartz countertops. It doesn't matter whether they are used for backsplashes, kitchen countertops, or other home surfaces because quartz is an excellent choice for any home. Quartz countertops are available in a variety of patterns and colors. Some quartz looks like natural stone. There are so many colors available in the market, so you choose a color according to your need. Moreover, after selecting the color, you can contact a professional design center like "Stone Spirit" to fabricate and install countertops.
Before going into the details of quartz countertops colors, let's clear your concept about quartz first. It is an engineered stone made of quartz mineral, resin, and pigments. If you want the most durable surfaces at home, then you need to choose quartz countertops. Quartz countertops are easy to maintain and resistant to stains & scratches. The only thing you need to worry about is the heat. Extreme exposure to heat can melt the resin, and it will leave a permanent burn mark on the countertop. When we talk about durability and strength, quartz countertops are the most durable and strongest countertop options available in the market. New countertops colors
Most Popular and Modern Quartz Countertops Colors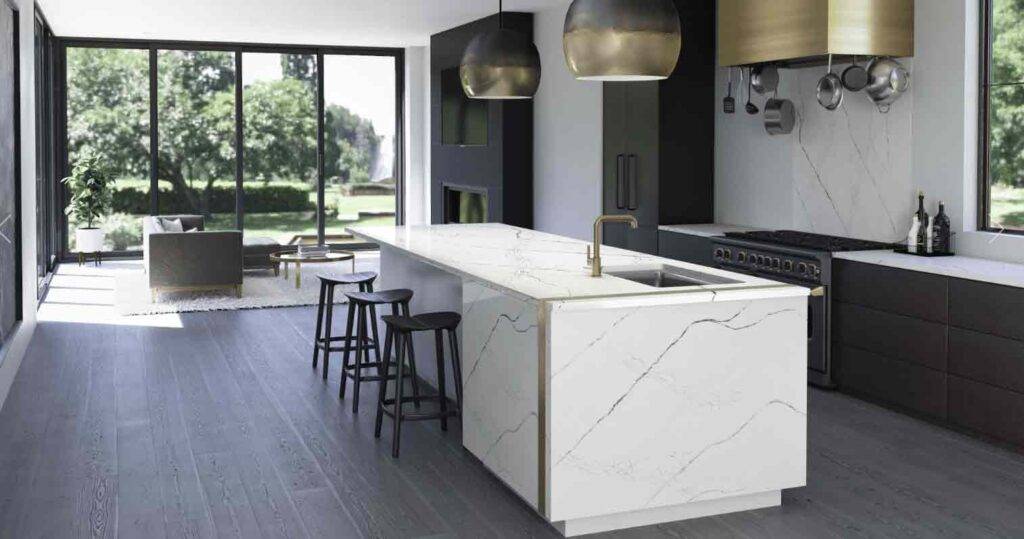 Here are some ideas for the best quartz countertops colors, and you can choose according to your home setting and style.
Arctic White: White quartz can fit with anything. You can use Arctic White in the backsplash and black cabinets. Moreover, you can also use it with natural wood hues and white cabinets.
Babylon Grey: It offers a cool and soft shade of quartz. If you have light-colored cabinetry, then it is a perfect choice. Moreover, you can use this countertop in the kitchen with a black-and-white color scheme.
Calcatta Classique: If you want to achieve a marble look, then try this one. It would be an ideal choice for cabinetry with dark and light shades. It looks like a neutral color so it can easily match with any color family.
Calcatta Lago: if you have dark cabinetry, it will make your kitchen look stunning. It looks like dark gray marbling.
Carrara Grigio: If your kitchen has a warm-toned look, it will give a bright but slightly muted look to your kitchen. It works well in a kitchen that has warm wood cabinets.
Cascade White: It works perfectly with light cool tones and white cabinetry. If your kitchen or home has a soft decorating style, it can provide excellent contrast against light colors.
Grey Lagoon: It is the best choice for modern kitchens. If you have white cabinets, then this stone can match well. It gives shades of black, navy, and gray.
Pacific Salt: It was ideally designed to pair with bright walls and dark cabinets. It gives shades of black and light brown. It can provide an exciting contrast to black and dark brown cabinets.
These are just a few examples of quartz countertops colors. After color selection, you can contact a professional design center like "Stone Spirit" to fabricate and install quartz countertops.